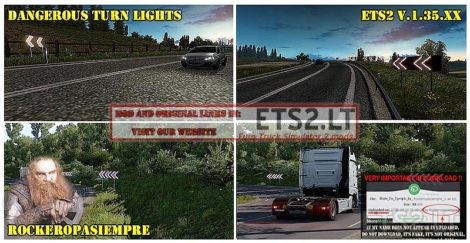 Dangerous Turn Lights ETS2 1.35.XX
IT IS PROHIBITED TO UPLOAD THE MOD TO ANY SERVER WITHOUT PERMISSIONS.
Update of mod.
Changes in this version:
– Updated old files.
– Corrected and adapted the new symmetry of the new files.
– Adapted the .pmg and .mat files for the new version 1.35 of ETS2.
– Tested and running on TSM, Promods and PJ Indo Map.
Author: Rockeropasiempre.
Weight of the file: 501 Kb
a greeting
Credits:
Rockeropasiempre
DOWNLOAD 501 KB