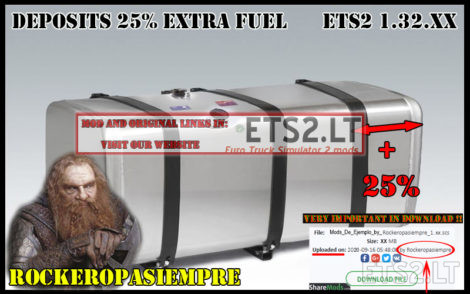 PROHIBITED UPLOAD THE WORK TO ANY SERVER WITHOUT PERMISSIONS.
Update of mod.
Specifications:
– Modified the capacity of 105 deposits of the game, adding an extra 25% extra capacity.
– Add the deposits, do not replace them.
– You can use any original chassis of the game, or that of the mod, which is usually always below the original, with a small icon that tells you that this deposit has room for 25% more fuel.
– All the archives of the deposits have been carefully expanded that 25% more fuel mathematically.
– For the trucks of the game that use the AdBlue additive, that 25% has been distributed equally so that you do not run out of additive.
– It also serves for the 8×4 chassis of Scania R 2016 and Scania S 2016.
– Updated to the new version 1.32
– Deleted old files.
– Modified the rest of files.
– Re-adapted the mod icons for the brightness changes of this version.
Author: Rockeropasiempre
a greeting
Credits:
Rockeropasiempre
DOWNLOAD 5 MB