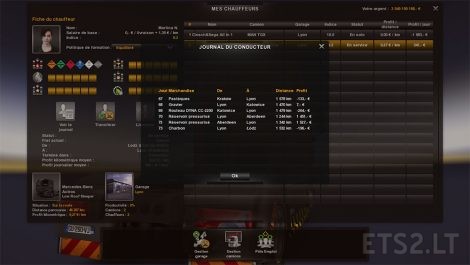 Available on-line purchase without buying of truck.
No cool of hiring.
Expenses of abandonment of a trailer reduced to 1.200€.
Expenses of the more realistic drivers.
Modification completes of systems of the points of experience.
Price of the fines fixed according to the French regulations.
Price of the more realistic cargoes.
Price of the reduced garages of 90 %.
Price of the more realistic fuel.
Reduction of the price in garages deleted.
Occasions of trucks in 75 % of the initial price.
More realistic exchange rate of currencies.
Time of modified rest (45 minutes of break every 3:30 am).
The past average speed of the drivers from 67 to 80 kph.
Credits:
Ficfic
DOWNLOAD 15 KB