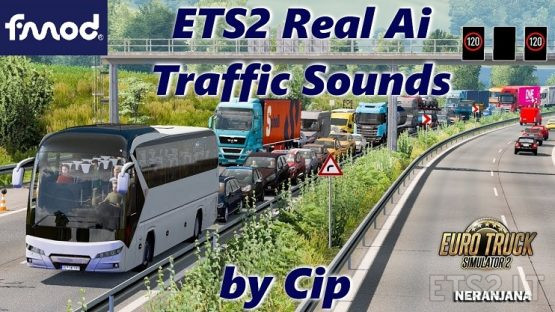 personalized FMOD sounds for all Ai cars, SUVs, trucks and buses of the ETS2 SCS vehicles.
changelog v1.38.b:
-reworked fade in/out transition of all sounds
-corrected sound horn error of fire truck
other Ai modifications:
– Ai max_speed has been adjusted (speed decreased or increased depending on model) which will bring more realism to Ai traffic especially in combination with my Traffic density mod which allows Ai to break randomly the speed limits
– most cars received personalized real colors from the website http://paintref.com. trucks have also more specific truck colors
– Ai trucks received an increased spawn ratio (this will not affect density neither the ratio vs cars but is useful if you use truck packs)
How to use:
– place this mod above any other mods that may include Ai vehicles (map mods, economy mods, company mods, etc)
– my best sound tweaks are traffic slider at about 35-40% and truck engine sound level at 60-80% (depending if you use default SCS truck sounds or mods like Kriechbaum sounds)
– If you have access to my other sound packs available only on my Discord, please keep the base sounds mod on top of this mod
– mod is only compatible with game version 1.38
– not compatible with other mods which change Ai def files like for example mods which change the speed, torque or ratio of the Ai default vehicles.
Disclaimer: Some sounds may not coincide with the reality at 100%, the author is disclaimed for any imperfection that may be seen as an error. Note that sounds for some rare vehicles are not always available
Credits and Author rights:
-YouTube as main source of sounds
-Drive Safely and Darkcaptain for few old recycled ogg sounds
-Neranjana for the presentation picture
-the engine sounds are almost entirely my work, any post on other websites is allowed only by keeping original download link and credits in order to discourage thieves, before downloading please check that uploader nickname is "cipinho". please do not encourage thieves activity which already banned most of the users from my other sound mods. thieves will no longer help you with updates if the author stops working, this is now a proven fact!
you can support the author also if you report every time you find my mods reuploaded by others and/or leave a short message on this thread and/or post the real link in a comment on respective website(s).
My mods are and will always be for free, however if you appreciate my efforts and want to offer me a beer, I thank you in advance! here is my PayPal account:
paypal.me/cipinho
Credits:
Cip
DOWNLOAD 41 MB