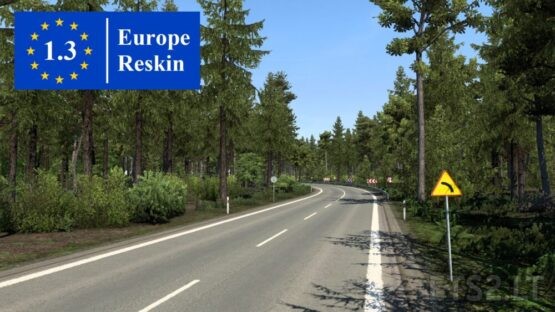 Euro Truck Simulator 2 – Europe Reskin 1.3
For ETS2 1.43
AUTHOR: Mirfi
Europe Reskin is a graphic modification that revamps the older parts of the original ETS2 world. This mod aims to replace the old SCS assets like road textures, terrain textures and vegetation (trees and grass) with newer ones from the latest SCS DLCs to date. Terrain textures and trees are carefully chosen to reflect their respective climate and location on the game world.
This mod should work with ProMods and other map mods out there, as well as other graphics mods, but caution is advised.
Bear in mind that this is a free, voluntary project.
Europe Reskin is proudly non-profit. However, if you enjoy the mod and want to show your appreciation with a small donation, you can do it here:
DONATE: paypal.me/mirfi
NEW in 1.3:
– New road textures for Going East and Scandinavia DLCs
– New road textures for Iberia DLC
– Improved road textures for Beyond the Baltic Sea DLC
– New trees, vegetation and terrain textures for Going East and Scandinavia DLCs
DLCs needed: Going East, Scandinavia, Vive la France, Italia, Beyond the Baltic Sea, Road to the Black Sea and Iberia.
INSTALLATION: Extract "Europe Reskin 1.3.scs" to "Documents/Euro Truck Simulator 2/mod". Activate the mod when launching the game.
SCS Forum: https://forum.scssoft.com/viewtopic.php?f=34&t=284353
© 2021 Mirfi ALL RIGHTS RESERVED
Credits:
Mirfi
DOWNLOAD 159 MB