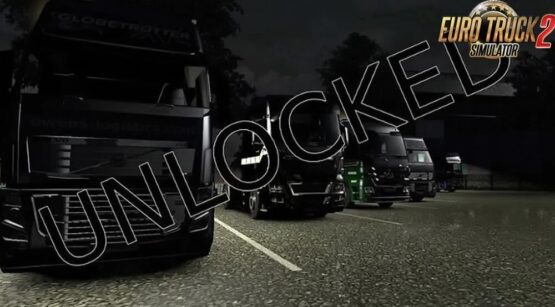 Everything Unlocked – this Mod unlocks all accessory parts at level 0. So you don't need to Level up, to get some grills or lamps on your truck. Everything unlocked, this is a small but useful modification that does not add something, but eliminates restrictions on the level of the driver. Limitations ETS 2 simulator made so that players gradually gain experience and get all the advantages of the game. But not many want to make hundreds of flights for the sake of, for example, a new engine. Now you can get the necessary parts without thousands of kilometers traveled. Body kits, engines, car accessories and much more in Euro Truck Simulator 2 without wasting time.
Features Everything Unlocked:
– Unlocks all standard parts including cabs, chassis, engines, paint jobs, interiors and other truck parts.
– Compatibility: All SCS trucks, all SCS trailers, All DLC SCS;
– Doesn't work with modded trucks or modded trailers.
Changes in v1.44:
– Adapted to the latest game patch 1.44
Credits:
Viss Valdyr
DOWNLOAD 200 KB