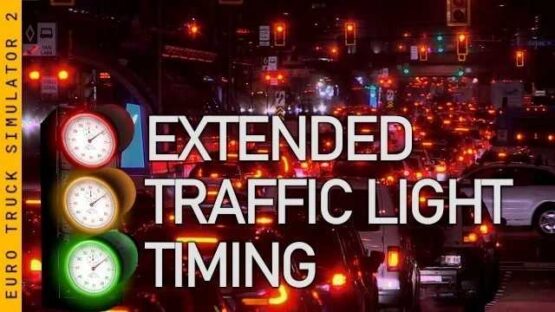 Version 1.3.6a
– Add support for game version 1.44 public beta.
– Minor fixes and improvements.
24 seconds green light signal interval. (26 seconds in certain countries)
4 seconds yellow signal interval after the green light, before turned red.
2 seconds yellow signal after the red light, before turned green. (none in certain countries)
2 second interval between traffic light pattern switching. (countries with no yellow after the red signal)
Note: the red signal interval may vary depend on the traffic light pattern complexity.
Additional modifications are:
Dimmer traffic light's bulb lamp while light is OFF.
Longer refuel time at gas station for AI vehicles (cars and trucks).
Longer border document check time (applies differently for cars and trucks).
Credits:
madman
DOWNLOAD 1 MB