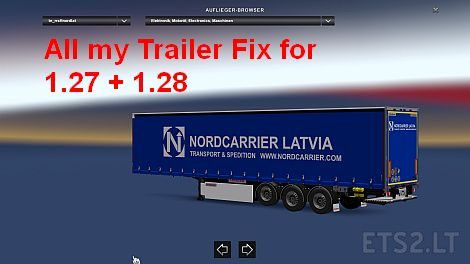 WATCH MY VIDEO!!!
Because i not did any new skins for my older skin packs, i will fix them for 1.28 this way. so i don´t have to upload them all again, and you not need to donlaod many MB again.
you don´t must update my trailer/skins. they will work also without that in 1.28, but you will have a lot of warnings in your gamelog.
if you do it like i showed, then they work without any warnings with 1.27 and 1.28!
Required programs: 7zip or rar
1) unpack my fix
2) open it
3) open your modmanger
4) navigate in the modmanager to one of my trailer/skin mod
5) mouse right click on it, go to 7zip and click open. only open, don´t do anything else! another screen will open.
6) go back to my mod fix, search for exactly same mod, it has the same name like yours in your modmanager!!
7) open it, you see a folder with the name cargo, and one new picture. now just drop both into the open 7zip screen, close this one, and all is done.
READY!!
that you must do now with every single folder/mod. take care that you put the right folders to the right place!!
i did this new ingame pic only for you, so you will know this mod is up to date.
————————————————————————————————
und noch auf deutsch
SCHAUT EUCH DAS VIDEO AN!!!
empfohlenes programm was nötig ist: 7zip, oder winrar sollte auch gehen.
ich update meine älteren packs auf diesen wege, so brauche ich nicht alles wegen dieser kleinen änderung neu hochladen, und ihr müsst nicht viele viele MB´s erneut herunterladen.
theoretisch braucht man nicht zwingend die trailer updaten. sie werden auch so unter 1.28 funktionieren, schreiben aber eine menge fehler einmalig ins gamelog.
auf diese art kann man die trailer mit 1.27 und auch 1.28 spielen, ohne fehlermeldungen.
1) mein fix entpacken
2) öffnet diesen
3) öffnet euren modmanger
4) sucht im modmanger nach einem meiner mods
5) klickt auf den, dann maus rechts klick, zu 7zip gehen, dort wieder auf öffnen. nur öffnen, sonst nichts anderes machen.
6) jetzt wieder zurück zu meinem fix, dort den gleichen mod auswählen. dieser hat exakt den selben namen wie eurer im modmanger!! den jetzt öffnen. darin sind zwei dinge, ein ordner mit dem namen cargo, und ein bild. diese zieht ihr jetzt einfach in das geöffnete 7zip bild, dieses dann schliessen, fertig.
das muss jetzt für jeden mod einzeln gemacht werden. passt nur auf das ihr die richtigen ordner in den entsprechenden mod packt.
das bild ist eigentlich nicht wichtig, aber so seht ihr dann im modmanger das es aktualisiert wurde.
Credits:
Rudi
DOWNLOAD 170 KB