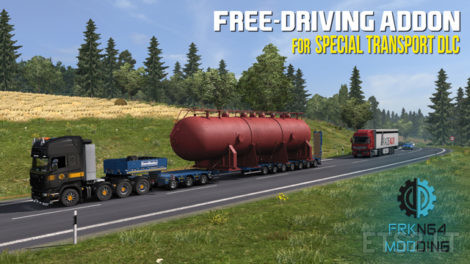 Visit our website to download our other mods: https://en.frkn64modding.com
========================================
FEATURES
– With this add-on, you can find the oversize trailers from Special Transport DLC in more companies and make delivery to all cities without following the special routes.
– In addition, this add-on removes escort vehicles and 60km/h speed limit that appear during delivery.
– You must have the Special Transport DLC to use this add-on.
Warning
This addon is currently in beta. The size of the trailers may be too big for some companies. If you see such a bug, report to me the name of the cargo you took and the name of the company that you seeing the bug.
———————————-
UPDATE NOTES
v0.3 released. Changes;
– Now compatible with update 1.32.
———————————-
REQUIRED GAME VERSION
v1.32.X
————————————————————————–
Please respect to labor by following these rules;
– Don't edit the mod files without permission.
– Don't change the download link while sharing the mod on another sites or YouTube etc.
– Don't upload the mod to your Sharemods/Modsfile etc. account for earn money.
Thanks in advance.
Credits:
SCS Software, Frkn64 Modding
DOWNLOAD 212 KB [Sharemods]
DOWNLOAD 212 KB [Modsbase]