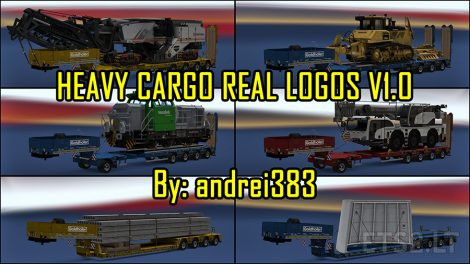 This mod replaces the default logos of the Heavy Cargo DLC with their respective real-life equivalents.
Eurohauler: Goldhofer
Transformer PK 900: Siemens
Writigen: Wirtgen
Dozer Crawl: Komatsu
Bossloc: Vossloh
Rex-Tex: Terex
Issues:
1. Due to the texture mapping of the models, the decal placements may not be exactly the same as real-life.
2. Due to the texture mapping of the models, some decals have been omitted.
Installation:
1. Copy the "Heavy_Cargo_Real_Logos_andrei383.scs" file into your ETS2 mod folder.
2. Activate the mod in the ETS2 mod manager.
Game Euro Truck Simulator 2 mods
Important Info:
1. I am not responsible for any damage that this modification may cause. This mod is provided on an "as-is" basis and was developed and tested for the 1.27.2.1s version of Euro Truck Simulator 2.
2. Please do no re-upload this mod to other sites. This mod is provided as freeware. If you paid for this mod, demand a refund.
3. You may NOT modify and reupload this mod (or any part of it) without permission.
Contact/Donate:
If you would like to support the continued development of this and other (future) mods, please consider making a donation. You can donate via PayPal: http://paypal.me/andrei383
If you have any questions, comments, or concerns please contact me in the comments or on the SCS Forum.
Credits:
andrei383
DOWNLOAD 2 MB