Highpipes for Trucks v5.5 by Nico2k4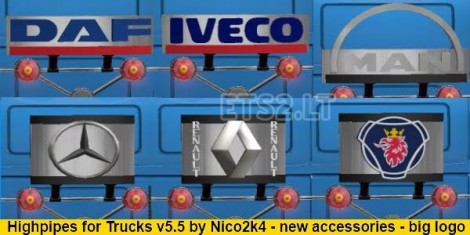 – Modified grid of all pipes – a little less detail – much less MB.
– Add 12 accessories to center slot (together now is: 22)
– Mercedes Benz Antos 2012 by Danz [D3S DESIGN]:
– now highpipes find in exhaust_l not doorstep as it was before
– Several bug fixes and minor improvements.
Highpipes find in exhaust (left) and/or in … see "info.txt".
Tested on 1.20.1 – works fine on older versions.
Mod supports more than 90 trucks.
More info and full list of supported trucks in "info.txt".
Have Fun!
Nico2k4
Credits:
SCS, Drivter, Roadhunter, abasstreppas, Moders-Team-Poland, maxx2504, Nico2k4
DOWNLOAD 390 MB
Popular mods