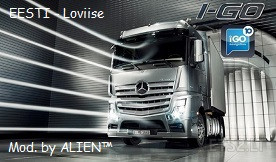 Hi.
This is my first voice mod. I hope you like it.
Tested game v.1.38.*
Language included:
Estonian – Loviise
(Eesti – Loviise)
Changelog:
v1.1: Roundabout voice edited.
v1.2: Corrected igoest.sii and manifest.sii files, description file changed, new icon.
v1.3: Compatible with game version 1.38.* and FMOD
Eesti keeles:
Tere.
See on mu esimene hääle mod. Loodan, et teile meeldib see.
Testitud mängu versioonis 1.38.*
Keel:
Eesti – Loviise
Muudatused:
v1.1: Muudetud ringtee hääled.
v1.2: Korrigeeritud igoest.sii ja manifest.sii failid, kirjeldus fail muudetud, uus ikoon.
v1.3: Ühilduv mängu versiooniga 1.38.* ja FMOD-iga.
Credits:
Alien (mod author), IGO NextGen, FMOD.
DOWNLOAD 1 MB