Improved Company Trucks v 1.5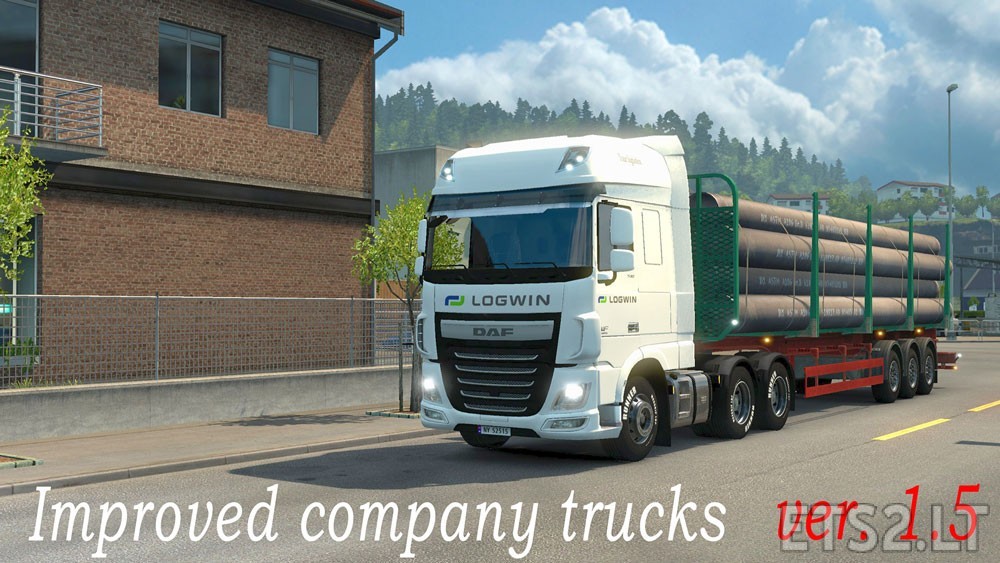 – 1200 variants of trucks (rhd and lhd) for quick jobs to select from;
– Every quick job truck now has its own technical condition;
– Almost all possible variants of chassis, cabins, interiors, now used in quick job trucks. More than 90% of default engines are represented;
– Mercedes Actros `14, Volvo FH16 20092012 and Iveco StralisHiWay now use new engines from Snoman`s Gearbox/Differential mod. Also, all quick job trucks use real gearbox data from Snoman`s Gearbox/Differential mod (mod is integrated);
– Trucks differ by installed accessories: front and bottom grills, wheels, sunshields, headlights, mirrors, doorhandles, sideskirts and doorsteps;
– Correct badges, based on enginechassis type;
– Reworked truck paint system: trucks will use SCS standard/metallic paint and custom skins for real logistic companies: A.K. Worthington, CEVA, Freya, Fiege, Kuehne Nagel, Norbert Detressangle, Panalpina, Schenker, Sovtransavto, Dachser, Emons Group, Logwin Logistics, Fercam, Willi Betz and Raben;
– 110 new paint colors for aiquick job trucks and ai cars;
– Some trucks now have working interior lights;
– All trucks without integrated GPS have TomTom navigators;
– New loading screens and menu music;
– Mod is compatible with all map, cargo, trailer, graphic, sound and physics mods.
Attention!!! Mod is tested with ETS2 ver. 1.24.2
Donate
All my mods are free to download and will be distributed this way in the future too. Hovewer, If you appreciate what i`m doing and want to support my work, you can transfer any amount of money, using PayPal on this email: [email protected]
All donations are voluntarily! Every donation counts! Thank you!
Please do not reupload this mod to other filehostings and keep original link!
Authors: AlexeyP, Alang7, Snoman, Matthias Guns 1067
DOWNLOAD 55 MB
Popular mods