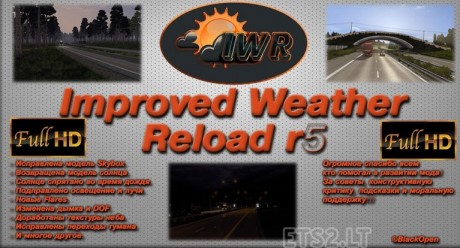 Thank you Supric, Knox_xss, Hoss, Gricko, DANZ
Game Version: 1.14.xx
– Completely reworked the weather with 92 high resolution textures of heaven;
– Changed the light of lanterns and lights of traffic;
– Two versions of fashion: SD (compressed textures, for owners of low iron not HD!);
– 30 types of weather during the day;
– 18 types of dawn;
– 15 types of sunset;
– 14 types of clock;
– 3 types of rain;
– Different types of night;
– Set the frequency of morning fog, dense fog is rare;
– Adjust HDR for night illumination light sources;
– No additional Bloom`a;
– Orange light bulbs;
– Fixed Flare traffic;
– The shadows of the clouds.
Not recommended for use with other traffic weather!
HDR color correction and shoulderstand be included.
#2 SD version r5
Credits:
Black Open, Supric
DOWNLOAD 285 MB