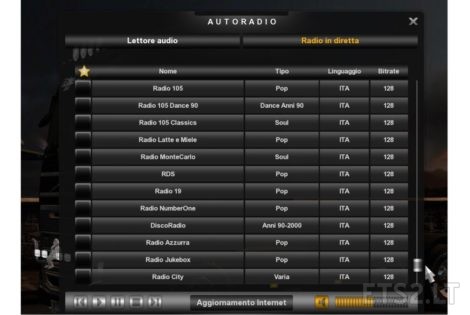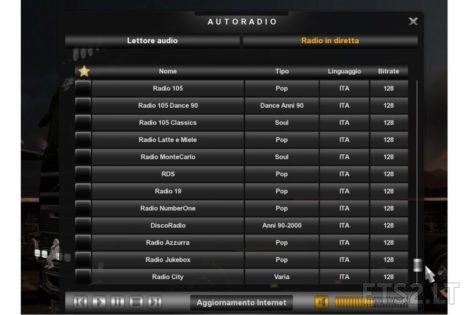 Here you can find a list of Italian Radio Stations URL, to use into the game. Every URL was tested by me, i can guarantee it work.
In the MOD, you can find some of the most famous radio stations in Italy, together with other less know.
If some users want some particular radios to add, he can ask it to me commenting the MOD.
____________________________________________________________
Qui puoi trovare una lista di radio Italiane, dalle più famose alle meno famose, tutte perfettamente funzionanti (le ho testate una ad una).
Nel caso aveste qualche particolare radio da richiedere, potrete farmelo presente, e cercherò di provvedere ad aggiungerla in tempi brevi. La lista è in costante aggiornamento, in seguito rilascerò delle nuove MOD aggiornate.
Qui sotto, la lista delle stazioni radio che potrete trovare.
-Radio 105
-Radio 105 Classics
-Radio 105 Dance 90
-Radio MonteCarlo
-RDS
-Radio Number One
-DiscoRadio
-Radio Azzurra FM
-Radio Jukebox
-Radio City
-Otto FM
-Radio Manila
-Radio Party Groove
-Radio Latte e Miele
-Radio 19
-FM Italia
-Radio Kiss Kiss
-RAI Isoradio
-Radio Studio +
-ElleRadio
-Radio Subasio
-RSI Rete Uno
-Radio Amore Campania
-Antenna 1
AGGIORNAMENTO: Ho aggiunto 8 nuove stazioni radio:
-Radio Nostalgia
-Radio Globo
-Radio Lombardia
-Radio MonteCarlo Lovesongs
-Virgin Radio
-Radio Gamma Puglia
-Radio 80
-Radio Gelosa
Credits:
Dexter15291
DOWNLOAD 3 KB