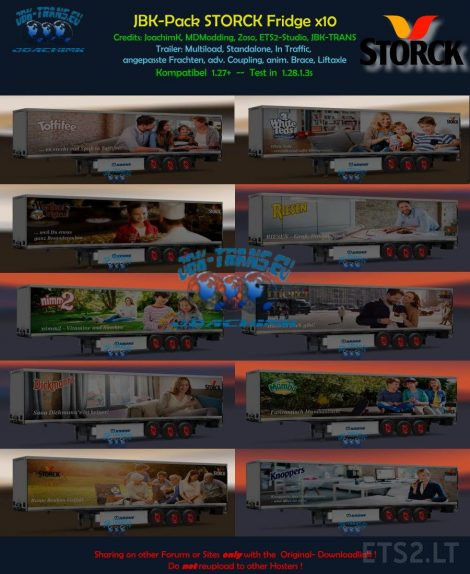 Credits: JoachimK, Zoso, MDModding, ETS2Studio, JBK-TRANS
Wer erinnert sich nicht an die Storck Riesen oder Toffifee und all die leckeren Sachen,
die wir wohl schon zu unserer Schulzeit gerne genascht haben.
Trailer(s):
– MDmodding
Technical Changes:
– ZOSO -with Thank for his Work.
– Con la ringraziamento per le sue autorizzazioni
Skins:
– JoachimK
—
Tested in:
1.28.1.3 without any Problems. Errors or Problems? contact (ed) jbk-trans [dot] eu
—
Trailer:
– Fridge (MDModding, Zoso)
—
Eigenschaften Trailer:
– Advanced Coupling
– Animated Brace
– Liftaxles
– Standalone,
– Angepasste Frachten
– ModManager Ready
—————————————————————————
ATTENTION / ACHTUNG:
Sharing on other Forums/Sites only
with the Original-Downloadlink !
DO NOT HOST ON OTHER SITES/SERVERS !
DO NOT REUPLOAD !
ALL OUR MODS FROM US HANDMADE. NO OTHER MODS ARE USED / COPIED / CHANGED FOR OUR MODS.
WE STILL USING OUR SEARCHES AND PERMISSIONS FROM THE COMPANYS:
WE ARE AGAINST MOD-STEALING !!!
Credits:
JoachimK, ZOSO, MDModding, ETS2Studio, JBK-TRANS
DOWNLOAD 62 MB [jbk-trans]
DOWNLOAD 62 MB [Sharemods]