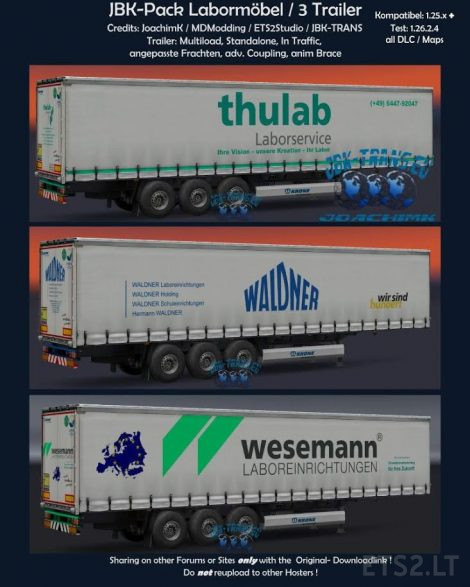 Origine:
Germany
Skins:
-JoachimK
Tested in:
1.25.xx / 1.26.3.6
Trailer:
– Profiliner (MDModding)
Eigenschaften Trailer:
– Advanced Coupling
– Animated Brace
– Standalone,
– Angepasste Frachten
– ModManager Ready
—————————————————————————
ATTENTION / ACHTUNG:
Sharing on other Forums/Sites only
with the Original-Downloadlink !
DO NOT HOST ON OTHER SITES/SERVERS !
DO NOT REUPLOAD !
ALL OUR MODS FROM US HANDMADE. NO OTHER MODS ARE USED / COPIED / CHANGED FOR OUR MODS.
WE STILL USING OUR SEARCHES AND PERMISSIONS FROM THE COMPANYS.
WE TAKE DISTANCE TO -JBK-MODELER- , WE HAVE NOTHING TO DO WITH HIM !!!
WE ARE AGAINST MOD-STEALING !!!
Credits:
JoachimK, MDModding, ETS2Studio, JBK-TRANS