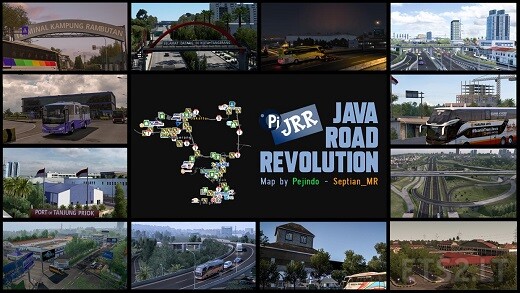 Map of JRR (Java Road Revolution)
The first Indonesia (real) add-on map, which currently have the biggest city of the country, Metropolitan city of Jakarta and its suburban area.
Travel every part of highways around the city, visiting many industrial areas, and few rural roads leading to each interesting place. This map is possibly going to expand further along Java Island in the future.
Features / Changelogs:
— Compatible for Euro Truck Simulator 2 from patch 1.38 to 1.40
— New cities : Jakarta, Tangerang, Depok, Ciputat & Bogor
— Added a lot of new map assets and models.
— Added new Indonesian police car traffic (no British/UK police car anymore)
— New Indonesian Real Companies + its trailer/cargo skins
— Bug fixes and map tweaks
Notes :
— Not require every DLC's. You can use this map with DLC or without map DLC (even if you don't have any completed one)
— Compatible with other add-on maps (for making map combo)
Credits:
Septian_MR, Pejindo Blogs
DOWNLOAD 228 MB