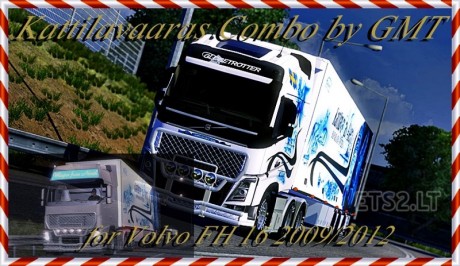 Kattilavaara Combo by GMT for patch 1.14.xxx
Runs on Patch 1.15.1
The download offered here may only be used with the original DL link,
the same is true when uploading to other forums, we ask this respect!
When the truck you have the Kattilavaara chassis and buy the attachments.
Trailer is standalone and has its own charge
scs directory is open, if someone wants to change the skin …
it must start a new game, simply the scs file into your mod
and have fun.
For questions or problems link to the Support Forum file exists in the zip.
Credits:
Trailer by Capelle
Truck by Capelle
Convertiert by Scania730Fahrer & DGO
Skin by ThatsNiceDear
The permission of Capelle lies ahead.
MFG
GMT Team
Credits:
SCS Software, Trailer by Capelle Truck by Capelle Convertiert by Scania730Fahrer & DGO Skin by ThatsNiceDear
DOWNLOAD 70 MB