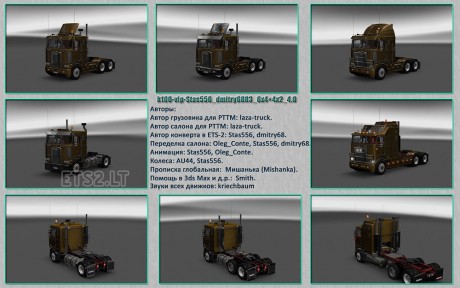 An updated version, modified animation salon, added 4×2 version.
Added new sounds. Addaped for patch 1.6.2. Update textures cab
frame update shadow animations, etc. on trifles. fully independent
model. Truck purchased in the showroom of DAP. Has its own tuning, engine and gearbox,
and sounds. Spelled out in the gallery tractors to work in companies (as in
European as well as in English).
Authors:
The author of the original truck for PTTM: – laza-truck.
The author of the original interior for PTTM: – laza-truck.
Author envelope in ETS-2: – Stas556, dmitry68.
Remaking the cabin: – Oleg_Conte, Stas556, dmitry68.
Animation: – Stas556, Oleg_Conte.
Wheels: – AU44, Stas556.
Global registration – Mishanka (Mishanka).
Help in 3ds Max and DR .: – Smith.
Sounds all engines: – kriechbaum
DOWNLOAD 117 MB [Uploadfiles]
DOWNLOAD 117 MB [Sharemods]
http://www.youtube.com/watch?v=OUQatNsOopg