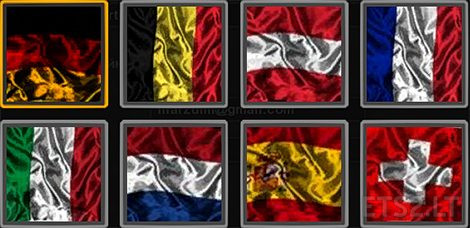 *DO NOT REUPLOAD , KEEP ORIGINAL DOWNLOAD LINK*
tested in 1.30.1.6
Logos like flags of West Europe countries for your company
Place in top of modlist.
I can make at your request, write in comments.
West Europe:
– Germany
– Ausria
– France
– Spain
– Belgium
– Italy
– Netherlands
– Switzerland
tnx SCS and my family 🙂
You can share this on other sites but KEEP ORIGINAL DOWNLOAD LINK AND CREDITS! DO NOT REUPLOAD TO OTHER FILE SHARING SITES! For personal use is free.
Credits: Illar Zuim
Donation: [email protected]
——————–ru————————-
*Не перезаливать на файлообменники, сохраняйте оригинальную ссылку*
Тестировал на 1.30.1.6
Логотипы для вашей компании в виде флагов стран Западной Европы.
Размещать повыше в списке модов.
Могу сделать "под заказ". Пишите пожелания в коментах.
Западная Европа:
– Германия
– Австрия
– Франция
– Испания
– Бельгия
– Италия
– Голландия
– Швейцария
Спасибо SCS и моей семье 🙂
Вы можете распространять на других сайтах, но сохраняйте оригинальную ссылку и описание! Не перезаливайте на другие файлообменники! For personal use is free.
Credits: Illar Zuim
Donation: [email protected]
Credits:
Illar Zuim, SCS
DOWNLOAD 93 KB