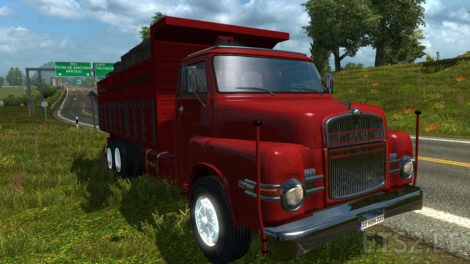 – Standalone truck, sold in MAN, available for purchase with the 0-th level, including online.
– Its interior, the color of the torpedo depends on the color of the body.
– Support for DLC Cabin Accessories.
– Support For SiSL Mega Pack .
– 3 chassis: 6×4, 6×4 with body, and 6×6-added for heavy cargo transportation from DLC Sprcial Transport.
– 3 engines;
– 3 transmission;
– 3 types of wheels, each disc has its own rubber;
– 2 modes of wipers, in rainy weather, the drops from the windshield are cleaned off.
– Your sound.
– 2 paint Colors + palette, metallic color is not supported.
– Supports standard tuning.
* Does not support advanced trailer hitch! (disable in gameplay settings)
* No support for cables and hoses!
– Pure game.log.
Test on version: 1.31
Install: file from downloaded archive move to: Documents/Euro Truck Simulator 2/mod and connect in mod Manager.
Credits:
Credits: Tunak [TTMODS], NO Tunak [TTMODS];
DOWNLOAD 31 MB