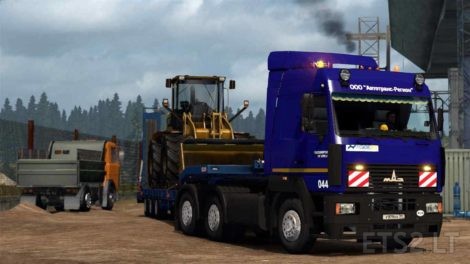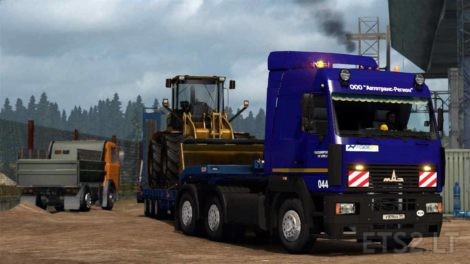 The model has:
+ 3 types of chassis: 5440A8 (4×2); 6430A8 (6×4); 5340A8 (tent 4×2).
+ Your own wheels and sounds.
+ Original characteristics of power units.
+ Coloring in factory colors, incl. in the "metallic". It is possible to paint plastic parts of the tail in the color of the cabin.
+ Extensive tuning (2 models of steering, optics, curtains, GPS, flashing beacons, etc.), support for DLC "Cabin Accessories" and "National Window Flags".
+ Support for advanced trailer hitch simulation (5440/6430 chassis only).
+ Tractors are registered to work in companies.
New in this version:
Improvements and fixes in the model.
Model files are converted to a new format for working on game version 1.27.
Corrected the scale of CB radios and tape recorder, added the installation location of the tachograph next to the radio tape recorder.
Added vetrovichki and new stickers on the side windows.
Engine and radiator material is darkened.
An additional file included a simple mod that adds two types of removable daytime running lights to the game, installed in tuning slots (for example, to protect the bumper). I tried to make it compatible with other truck mods too.
Improvements and fixes registration.
Improved operation of the engine brake (when it is turned on, the gear does not switch to a step below).
The sound of the pneumatic signal C40V is registered in the standard equipment of the model, now there is no need to install it with an additional accessory for authentic sound. The accessory itself is left to improve compatibility with past saves.
Added a separate package of registration components for working with the mod "Sisl's Mega pack".
Known shortcomings that are not yet possible to fix:
manifested at a distance grid of polygons on some details (although slightly).
perhaps there were other unnoticed problems …
Credits:
il_86, Санек201333
DOWNLOAD 87 MB