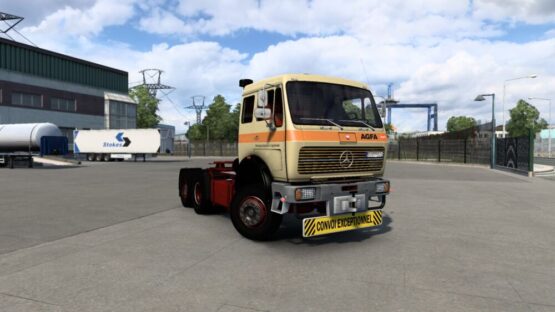 Moved skinnable license plate to the front on all chassis.
Reworked the truckpaint shader for the cabs and bumpers.
Reworked the chrome bumpers to better reflect the look of chrome.
Added chrome Atrapa variant.
Added truckpaint and chrome variants to mirrors.
Added 7 different colour options to: Bumpers, Atrapa, Front & Rear Fenders.
Redone the texture on default fenders.
Redone the Oxblood texture on all chassis.
Closed gap in headlight housing.
2 new plates for the ADR Slot.
Added 8 new styles to the Lightbox.
Added new accessory slots: Front & Rear Fenders, Pillow, Fuel Tank, Exhausts, Sideskirts, Deckplates, Front & Rear Mudflaps and Atrapa Trim.
12 new Exhausts, all AO baked.
New V10 & V12 sounds by Mercedes 1632 & SlavJerry.
New skin (more to come in the next update)
Reworked the interior with new textures (the old style still remains)
Reworked the dashboard with a rough plastic texture.
New steering wheel with rough plastic texture.
Low deck variants for 4×2, 6×4, and 6x2_4 chassis.
UI icons for new accessories.
Corrected engine name from "Italien" to "Italian".
Added Gearbox sticker to Dashboard.
Known issues:
Parts for the truck in the desktop dealer don't show at first, just select any upgrade and they will appear.
Slightly fuzzy shadows in game due to lowered truck chassis.
If you get floating windscreen wipers you just need to rebuy the main cabin. I'm not sure what's affecting this.
Credits:
Ekualizer for the original truck.
Antonio62 for steering wheel anim fixes.
Mercedes_2632 and Slav Jerry for Engines & Sounds.
azumukupoe for mirror defs.
Dotec for window animation.
Kriechbaum for new V6 Engine sounds.
DOWNLOAD 317 MB