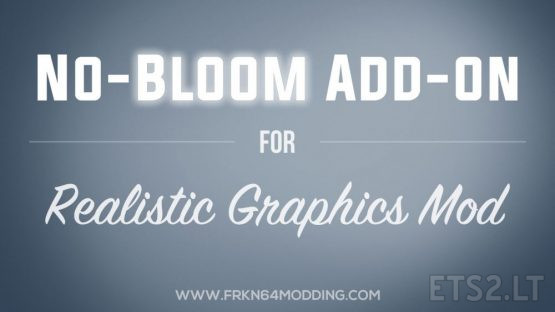 Visit our website to see more images of the add-on: https://en.frkn64modding.com/no-bloom-add-on-for-realistic-graphics-mod-ets-2-version/
========================================
FEATURES
This add-on removes the bloom effect that occurs when a light is reflected directly on light colored objects or surfaces when using Realistic Graphics Mod.
This addon must have higher priority than Realistic Graphics Mod in Mod Manager to work.
* Warning * This addon cannot work together with other addons of Realistic Graphics Mod! Addons will not work properly when they used together.
* Compatible with map mods listed below. Map Mods Support Add-on is not required.
– Promods Map
– TruckSim Map
– RusMap
– MHAPro Map
– RoExtended Map
Recommended load order in the mod manager for map mod users:
1(top row) – No-Bloom Add-on for Realistic Graphics Mod
2 – Realistic Graphics Mod
3 – **All files of map mods**
Caution: Realistic Graphics Mod may not work properly if you do not apply this load order.
———————————-
UPDATE NOTES
Update 1.3 released. Changelog:
– Added support for RGM 5.0 update.
———————————-
REQUIRED GAME VERSION
v1.37.X
————————————————————————–
Please respect our work by following these rules;
– If you want to share the mod on other websites, share with the original download links below.
– Don't re-upload the mod to any cloud storage website.
– If you edit the mod files, don't share it on the web. Keep it only on your computer.
Thanks for your attention.
————————————-
FOLLOW US ON SOCIAL MEDIA
facebook.com/frkn64modding
instagram.com/frkn64modding
twitter.com/frkn64modding
Credits:
Frkn64 Modding