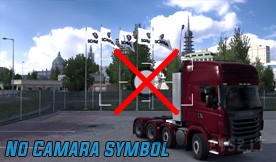 this is my "No Camera Symbol Mod v1.0". Generally this mod removes the viewfinder camera symbol of the in-game Photo Studio,
which gets originally visible by holding the left mouse button clicked.
Using this mod, you can take pictures with the Photo Studio and with SweetFX or ReShade Shader enabled.
All you have to do is to make your settings you wish with the Photo Studio, then hold left mouse button
clicked and press the key that you have set in the SweetFX/ReShade settings.
Now your screenshot gets taken with settings of the Photo Studio and SweetFX/ReShade effect visible.
Credits:
Frodi, SCS Sofware
DOWNLOAD 41 KB