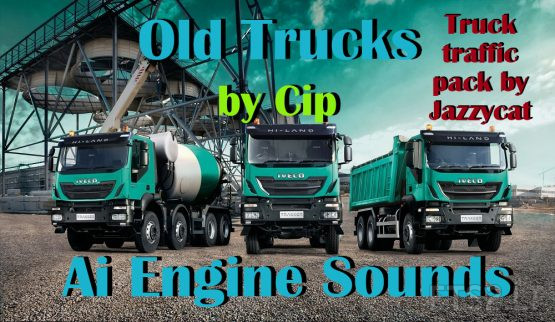 Personalized sounds for all trucks from Jazzycat Ai Truck pack v3.8. main mod can be found here:
changelog v3.8:
– adaptation for the last mod version 3.8
– added sounds (existent or new) for all latest additions
– replaced most of the DAF 106 sounds
– new sound for MB NG 1632
– reworked sounds for MB SK and MB LKW
– new sound for Renault Major
– 2 new sounds for Renault Premium inclusively one from Drive Safely
– one new sound in the array for Renault Magnum
– 2 new sounds for Volvo FH12 (F16)
– 2 new sounds for Volvo Fl7
– 2 new sounds for Iveco Turbostar
– increased spawn for some trucks (Volvo FH12 and Fl7)
Please read the description and how to use section in my sounds thread on SCS forum in order to use correctly this sound pack:
https://forum.scssoft.com/viewtopic.php?f=211&t=252682
here you can also find other sound packs and even you can vote for your favourite sound packs and the most voted will get priority at updates!
if you want updates more often please respect my work and share only by keeping the credits to the author and the original link!
enjoy!
P.S. My mods are and will always be for free, however if you appreciate my efforts and want to offer me a beer, I thank you in advance! here is my PayPal account:
paypal.me/cipinho
Credits:
Cipinho, Jazzycat
DOWNLOAD 33 MB