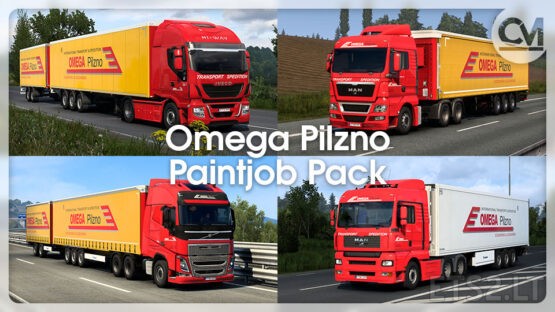 Omega Pilzno is a Polish transport and logistics company founded in 1992 and based in Pilzno. In addition to logistic services, Omega Pilzno is also an authorised servicer of Iveco, Volvo and MAN trucks.
Trucks supported:
– Iveco Stralis Hi-Way
– MAN TGX
– MAN TGX Euro 6
– Renault Premium
– Renault T
– Volvo FH
– Volvo FH Classic
– MADster's MAN TGA
Trailers supported:
– Krone Cool Liner
– Krone Dry Liner
– Krone Profi Liner
– SCS Box Trailer
– Schwarzmuller Platform
– Schwarzmuller Refrigerated
Omega Pilzno only uses curtainsider (yellow) and reefer (white) trailers in real life. Assuming white meant refrigerated, I decided to use the yellow livery for non-reefer dry freighter trailers in this pack, though to my knowledge none are actually used by the company.
Changelog for version 1.0:
– Initial release
Please don't reupload my mods to other sites. Thanks, and enjoy! 🙂
Credits:
Carsmaniac
DOWNLOAD 3 MB
DOWNLOAD 3 MB [mirror]