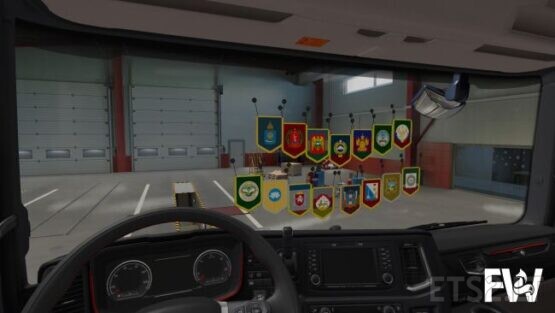 Pak pennants regions of Russia.
List of regions:
Central Federal district, Belgorod oblast, Bryansk oblast, Vladimir oblast, Voronezh oblast, Ivanovo oblast, Kaluga oblast, Kostroma oblast, Kursk oblast, Lipetsk oblast, Moscow oblast, Oryol oblast, Ryazan oblast, Smolensk oblast, Tambov oblast, Tver oblast, Tula oblast, Yaroslavl oblast, Moscow;
Northwestern Federal district, Republic of Karelia, Republic of Komi, Arkhangelsk oblast, Vologda oblast, Kaliningrad oblast, Leningrad oblast, Murmansk oblast, Novgorod oblast, Pskov oblast, Saint-Petersburg, Nenets Autonomous Okrug;
South Federal district, Republic of Adygea, Republic of Kalmykia, Republic of Crimea,Krasnodar Krai,Astrakhan oblast, Volgograd oblast, Rostov oblast, City of Federal importance Sevastopol;
-North Caucasus Federal district, Dagestan, Ingushetia, Kabardino-Balkaria, Karachay-Cherkessia, North Ossetia, Chechen Republic, Stavropol Krai.
Standalone (does not replace anything), but requires DLC Cabin Accessories!
Works on default trucks(work on mod trucks supporting DLC ​​Cabin Accessories).
VK group: https://vk.com/ets2foxworkshop
Credits:
Model: SCS Software
Textures: Mr. Fox
DOWNLOAD 1 MB
DOWNLOAD 1 MB [mirror]