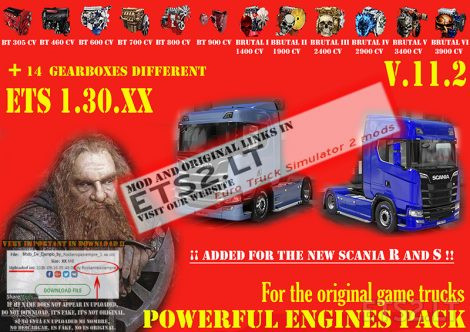 Changes in Pack Powerful engines + gearboxes V.11.2 for 1.30.XX:
– Adaptation of the files for its operation with the new version of ETS2 1.30.XX
– Added all the engines and all the transmissions of the pack for the 2 new Scania trucks:
+ Scania R 2016
+ Scania S 2016
– Adaptation of the mod for future compatibility with the mod: Most Aggressive Sounds 2.0 For All The Original Trucks (Will be released shortly).
With what trucks can I use this mod ?. THE BOXES AND ENGINES FOR THE ORIGINAL TRUCKS OF THE GAME ARE ADAPTED.
– Daf XF
– Daf XF Euro6
– Iveco Hiway
– Iveco Stralis
– Man TGX
– Mercedes Actros
– Mercedes New Actros
– Renault Magnum
– Renault Premium
– Scania R
– Scania Streamline
– Scania R 2016 (NEW)
– Scania S 2016 (NEW)
– Volvo FH16
– Volvo FH16 2012
Author: Rockeropasiempre
Weight of the file: 172.5 Mb
Credits:
Rockeropasiempre
DOWNLOAD 172 MB