Pack Powerful Engines + Gearboxes v 11.3 for 1.30.XX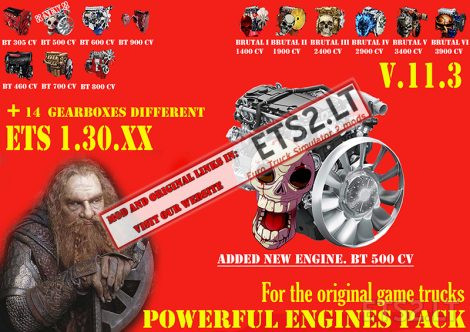 Pack Powerful engines + gearboxes V.11.3 for 1.30.XX
Changes in Pack Powerful engines + gearboxes V.11.3 for 1.30.XX:
– Added a new 500 Hp motor. for all the original trucks of the game.
– Readjusted the torque of each and every truck in the pack.
– Recalculated the strength of all pack engines.
– Recalculated and adjusted rpm. of all the engines.
With what trucks can I use this mod ?. THE BOXES AND ENGINES FOR THE ORIGINAL TRUCKS OF THE GAME ARE ADAPTED.
– Daf XF
– Daf XF Euro6
– Iveco Hiway
– Iveco Stralis
– Man TGX
– Mercedes Actros
– Mercedes New Actros
– Renault Magnum
– Renault Premium
– Scania R
– Scania Streamline
– Scania R 2016
– Scania S 2016
– Volvo FH16
– Volvo FH16 2012
Author: Rockeropasiempre
Weight of the file: 174.6 Mb
PROHIBITED TO RESUB THE MOD TO ANY SERVER WITHOUT PERMITS.
regards
Credits:
Rockeropasiempre
DOWNLOAD 175 MB
Popular mods