Mod adds to the game more realism, making gates and barriers, many companies are animated! All gates and barriers have a collision, so to fully open do not attempt to drive to the base or to leave. In fashion there are not all companies that are in the game, the mod will be updated!
[b]Version 3.1:[/b]
– Fixed bugs
– Added guard booth in Posped
[b]Supported versions of the game:[/b]
1.34.x + DLC Going East + DLC Scandinavia + DLC Vive la France + DLC Italia + DLC Baltica
Allow copy on another forum but keep orginal download link and author! Do not reupload!
It is forbidden to spread on truck-sim.club
You can support my work if you want, it's up to you:
WebMoney:
E995344387655
R145068611496
Yandex:
410012631986334
Credits:
SCS, Schumi and AlexeyP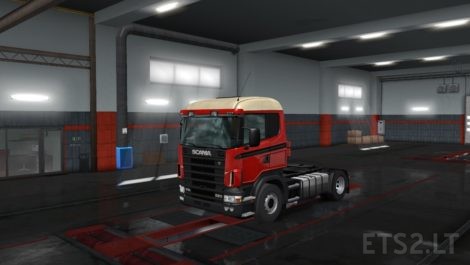 KMB (Kowloon Motor Bus) is a bus service operator in Hong Kong.
They do not own any trucks.
Skins design based on KCR 58 (Game)'s Simple Livery, with KMB colors.
Conversion to Scania R4 by LJ7006.
You must install 'KMB Livery For Scania R & S by RJL (V1.0) by KCR 58 (Game) first. The mod will NOT work without this mod!
Download link: https://ets2.lt/en/kmb-livery-for-scania-r-s-by-rjl-v1-0/
Put this mod above 'KMB Livery For Scania R & S by RJL' in the mod manager.
Fit for all cabins.
Fit for all chassises.
Fit for almost all accessories.
Discover different combination yourself!
Use ONLY:
Stock Grills
Stock Grids
Stock Sideskirts
KCR 58 (Game)
https://www.flickr.com/photos/kcr58game2/
Conversion to RJL R4 by LJ7006
https://www.flickr.com/photos/avd1lj7006/
Credits:
KCR 58 (Game), LJ 7006
DOWNLOAD 8 MB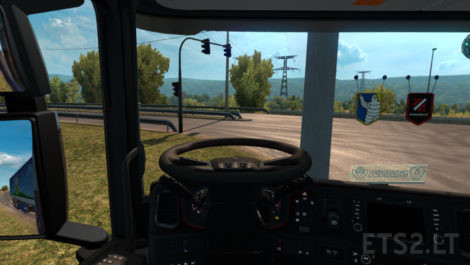 This mod adds a Liftable Axle steering wheel to all SCS trucks
But I want to let you guys see it and test it for your self's if something needs fixed.
Work super on 1.34v
Credits:
FAERWALD
DOWNLOAD 28 MB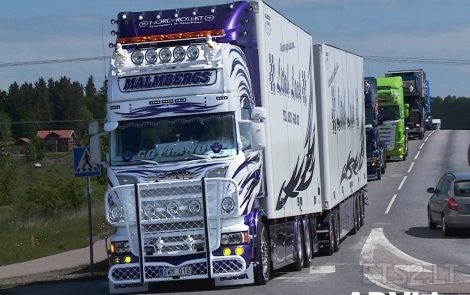 Hi all,
I've made from scratch a new Scania V8 sound. It's based on real videos of this truck.
This sound mod works with:
stock SCS Scania R and Streamline trucks, RJL "R"2.2.3, "T, T4" 2.2.3.
Enjoy.
Credits:
Oxygen, SCS
DOWNLOAD 11 MB
Pack adds in traffic 355 BDFs with 703 skins of real companies.
All standalone.
Works on any maps.
Tested on 1.33.x, 1.34.x
Compatible with all my packs.
Version 5.0 – added 12 new skins of European real companies, optimized some models.
Credits:
Jazzycat

Changelog:
Complability with 1.34
Fixed small bugs
Credits:
trzpro, crowbarattack
DOWNLOAD 47 MB