This addition is intended for fans of unusual traffic and heavy cargo.
This addon increased the mass 61 Jazzycat's cargoes and 21 standard cargoes.
Cost for certain goods been increased to 30%.
The main modes you can download on the website of the author (Jazzycat).
This mod does not claim to full realism.
Connecting in the game:
1. Plug mod map.
2. Connect the main mod (Jazzycat) in the game
3. To replace the file from the original mod similar file from my addons.
If you do the opposite may be the problem.
ATTENTION! WITHOUT BASE MOD WILL NOT WORK!
Credits:
Author of the main mod: Jazzycat Author of this addon: Tornado
DOWNLOAD 1.2 MB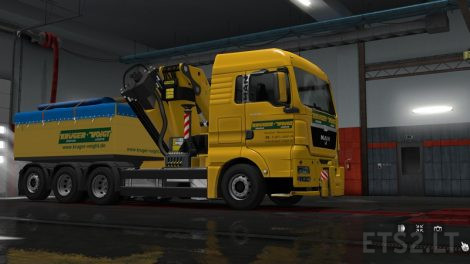 Combo skin pack Kruger+Voight Spedition for MAN TGX 2010 by XBS.
Put above mods (truck and trailers by XBS).
Credits:
XBS
DOWNLOAD 2 MB
Dont steal and reupload
interior light and more modification
Credits:
KSNLKL_Portakal, CuCunator
DOWNLOAD 100 MB
The Safety Truck Paintjob is now here, featuring the container Trailer for V1.28. Do not reupload the file, but you are allowed to share it around. It is only for the Mercedes MP4. Happy Trucking.
Credits:
Kacperth Workshop, MDModding
DOWNLOAD 24.7 MB

MAN TGX 2010 by XBS
version: 4.1
Standalone trucks, Sold in MAN Dealer shop.
Basic model SCS Software.
No details from other games or mods.
All additional details created in the 3d editor for this truck.
version ETS2 1.28
Unpack the archive into a folder /MOD/
PLEASE DO NOT CHANGE THE ORIGINAL DOWNLOAD LINK.
The current version of the mod and its discussion: http://forum.scssoft.com/viewtopic.php?f=35&t=242487&sid=4db25f74cfb2d797899f4c8c769b18bf
What's new in version 4.1
Added: New chassis 8×4/4 BDF with crane (for BDF trailers only v1.28).
Fixed: Errors
1) Replace skin for trailer and container
(man_tgx_2010_BDF_longliner.scs //vehicle/truck/upgrade/container/paint_cont.dds)
2) Replace skin for Long trailer:
(man_tgx_2010_BDF_muller.scs //vehicle/trailer_eu/schwarzmuller/paint_trailer.dds)
3) To make your license plate on the Front Grill Guard,
replace the textures (model/l_plate/l_plate.dds
and normal map model/l_plate/l_plate_nm.dds).
4) Sun visor with text (Your text: replaced texture //model/sunvisor_text/text.dds, Do not forget about the alpha channel).
All changes can be seen in the file /mod_description.txt/.
Credits:
XBS
DOWNLOAD 56 MB

Standalone
Interior
Sound
Personalization
Tested 1.28
Credits:
LS Mods
DOWNLOAD 29.9 MB