View Mods Categories >>
Skin Iveco Stralis Shadow Blue
Tested in version 1.8.2
Credits:
Maryva
DOWNLOAD 3.3 MB
Skin Volvo FH 2012 Christmas
Tested in version 1.8.2.
Credits:
Maryva
DOWNLOAD 3.6 MB
Adds 1 trailer Scuderia Ferrari.
Add 2 charges, not replaced.
Everything is separate, not a substitute.
It is compatible on all maps, mods, ect.
Tested on 1.8.2.5
Credits:
Anderoander
DOWNLOAD 2.6 MB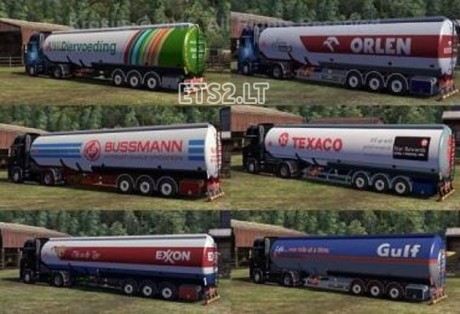 Skinpack trailers food cistern for ETS2 created by krokus.
Mode replaces the trailers for food cistern(oil and fertilizer).
Copy the .scs file to C:\Users\Your name\Documents\Euro Truck
Simulator 2\mod.
The mode has been testing for ETS2 version 1.8.2.5, 1.8.2.5s a TSM
4.5.1.
Credits:
Author and credits for model: by Sib3rius Author for wheels: by
stewowe Author for themes: by krokus.
DOWNLOAD 2.9 MB

Skin for Scania Streamline
Credits:
Latura
DOWNLOAD 0.6 MB