This is a skin based on real life Dutch company H. van Toorn & Zn. Also included is a link to the lightbox. Enjoy!
Credits:
ryaskins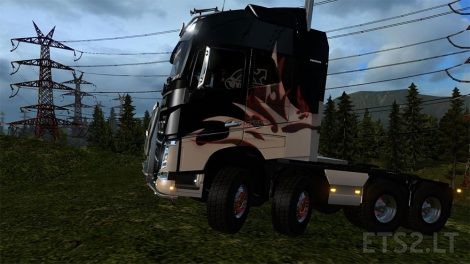 High suspension, increased stroke shock absorbers, redistributed weight of the load on the axle, powerful engines, physics suspension, new side indicator raised axle and retarder.
Support DLC cabin accessories.
Chassis 4×4, 6×6, 8×8.
Test version 1.23, 1.24.
Credits:
Authors; SCS, Chassis: Ohaha. Refinement: GrDima72.
Tested:1.24.x
Don't reupload.
Credits:
Deepy , SCS Software
DOWNLOAD 9.2 MB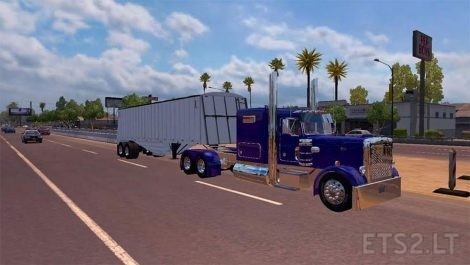 This Peterbilt 359-PVT was converted from ATS. It also was updated by Kriechbaum with new sounds and engines.
* 3 cabins
* 3 chassis
* Engines: C-15, 3406E, 444 Cummins, ISX, N14
* 3 transmissions
* 2 interior choices
* Paint
* Little customization
* Dealer DAF
Tested version 1.24.x
Authors: Martin, Kriechbaum, Tucker, Maxagent

– Standalone Truck
– Dealer DAF
– Interior
– Sounds
– Tuning
Spot mirrors not functional, fix soon.
Tested 1.24.x1.23.x Game Version
Authors: Anton Aronson, KW_Driver, guidot Author adaptation: MaxaGent

Freightliner Coronado Original for ETS2 Software Version: 1.24/1.23
– 2 interior
– Wheels
– Skins
– Sounds
– Buy in the Dealer Mercedes
Description: There are templates for the channel 1 and 2 and a pair of rasskrasok for clarity.
Fog will burn if pastavit bumper and switch on the front dop.osveschenie F4.
For moviegoers have a separate lounge. Includes board. computer tab and go to the table to view. (Coffee, Sorry, themselves. :))
Kyno mezhet put his own: to have enough film in format .ogv, throw it in the events along the way: material custom and to register it in tv_tuner.sii script there.
ETS2 Version: 1.24/1.23
Added a rearview camera and a bit of tuning
ETS2 Version: 1.24/1.23
Changes:
Added new engines and PPC
Dobavilen third wiper mode
Full support for the wheels and discs
I changed in the interior chamber
Fixed manifesto
ETS2 Version: 1.24/1.23
Credits:
Authors: make the initial model of the Ilyushin DB-3 (rignroll model) Envelope CTA: I do not know / do not remember Envelope in ETS2: Stas556 Alterations, debugging, additives, ubavki model and anima: dmitry68 The sounds of engines: kriechbaum Residence in ETS2: vitalik062 Recent changes for ETS2 Version: 1.24/1.23 – Vladimir1203 Author adaptation: MaxaGent