All Truck
All Slots
v.1.28
Credits:
CrowerCZ
DOWNLOAD 839 KB

BUY IN Volvo
– added tuning
– added low chassis
– added stickers
– added cabin dlc
– DO NOT EDIT CAR
– DO NOT REUPLOAD
– DO NOT CHANGE LINK
If there is any problem/ recommendation please contact me at: https://www.fb.com/Azorax-Modding-338343173164582/
Credits:
Azorax Modding, LeafeonGold
DOWNLOAD 14.8 MB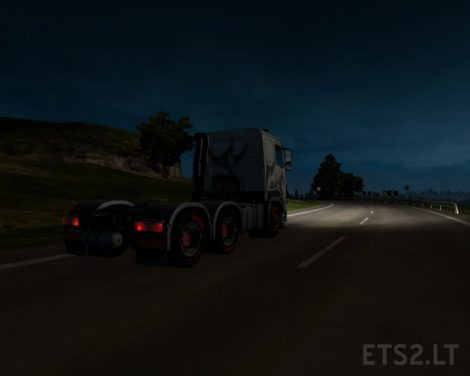 Increase the night time to the maximum the game allows.
Please see the Readme file for further details.
Credits:
Bazooka115
DOWNLOAD 80 KB

Finally a mod where you can go fast without it being gamebreaking –
Allows exceptional power but in a realistic and game-friendly way,
You can cruise along on the backroads and motorway very steadily; all knowing you can go much faster if you need too.
Please read the Readme file for a better explanation about this mod and its capabilities !
TESTED ON V.1.28 1.3 (LATEST)
Credits:
Bazooka115
DOWNLOAD 6 KB

This is the hooklift chassis from the Mp4 megamod adapted to RJL v 2.2.1
i will take no credit for the models/textures. Trailer you can find in the MP4 Megamod from DragonModz, its for version 1.24 but works fine on 1.28
Direct link to Mp4 Megamod;
https://ets2.lt/en/mercedes-mp4-mega-mod-for-1-24/
Credits:
DragonModz, Anonumous
DOWNLOAD 38 MB