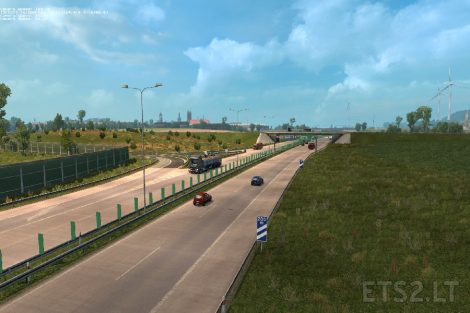 Hello all Community
After 18 months brake, we want to give all of You big update of Our project
Map is overlay of existing Polish terrains on ProMods map and including modification of terrains from previous versions Our map.
We want to give for all of You, our Fans and Players, simple choose; which "version" of Poland You want.
We're working hard to create much more better map as You remember.
We've hope, then what we give You, will be much more amazing like never before.
REQUIRED MODS:
– ProMods Map 2.20
OPTIONAL MODS:
– RusMap
REQUIRED DLC:
– Going East
– Scandinavia
– Vive la France
Our official FB FanPage:
https://www.facebook.com/prreworked/
Changes on the map:
– reconstruction of East Pomerania
– modernization and lifting road A1 "Gdańsk – Bydgoszcz" (Bydgoszcz without changes)
– modernization road S7 "Gdańsk – Olsztyn" (Olsztyn – add new speditions)
– modernization and lifting road A4 "Kraków – Rzeszów"
– modernization and lifting S-E territories
– modernization and lifting around Kielce
– modernization and lifting S-W territories (from Wrocław to Zgorzelec and Olszyna)
– reconstruction of Piła
– reconstruction of Grudziądz
– reconstruction of Tricity
– lifting around Gorzów Wlkp
– modernization of PM/PR maps connection sector (that sector incl Germany terrains on the West from Zgorzelec)
New cities:
– Lębork
– Łeba
– Elbląg
– Ostróda
– Legnica
– Wałcz
Important – some cities are hide on the World Map, but have speditions to unload some cargos. After discover still will be hide on WM.
Maybe will be show in the future, but for now is Our "surprise". We want to give You a pleasure with discover all that cities.
Important #2 – N-E of Poland is a modified part by ProMods Team in order to errors-free connection a both maps (sectors incl Augustów and Ostrołęka)
Technicalities:
Update was tested on the platform:
– i5 4690k
– MSI Z97 G3
– 8GB RAM
– MSI GTX 970
– max resolution up to 1920×1200
with the modifications:
– dlc Heavy Cargo pack
– MAN TGX Euro xx by Madster + BDF from Tandem Truck Pack
– MAN TGX 2010 v4.2 by XBS
– Trailers and Cargo Pack by JazzyCat (one of random cargo can make crash the game – that effect was observed on the last version of that mod)
– and some interior add-ons, if any above mod incl this.
Recommended graphics settings (using under testing):
– refresh – 60Hz
– VSync – on
– calibration – 400%
– mlaa – off
– hdr – on
– depth of field – on
– break the light – on
– color correction – on
– refliections quality – medium
– vegetation details – high
– grass consolidation – high
– shadows quality – medium
– shadows texture sizes – high
– weather conditions quality – medium
– mirrors view quality – medium
– mirrors view resolution – medium
– mirrors drawing distance – high
– texture quality – high
– anisotropic filtering – 95%
– normals mapping – on
– traffic light – on
– car second lights – on
– visibility of light distance – high
– pedestrians – on
Average of FPS – 60
Technicalities #2:
Our reccomendation to fluence stable game and how to fix it:
– use official modifications by SCS (optimized are well)
– use modifications with wrong opti can downgrade stable and fps
– use modifications with more AI Traffic on own risk (that option can be change with the console commend , when "1" is min and "10" is max
or change that option in "config" file (folder My Documents in the savegame)
Not recommended settings (for older configurations can be too heavy):
– mlaa – on
– weather – ultra
– reflections – high
– all mirrors settings – high/ultra
– mirrors drawing distance
– calibration 400% (on graphic cards with small amount of VRAM)
Credits:
DIESIRAE GrakuPL Michaleczeq Sebavr6 djdarklighter Special thanks: Radol Szczecin Satan 19990 _PMA Czaja MirM Rene-GAD
DOWNLOAD 24.6 MB part I
DOWNLOAD 69.5 MB part II
DOWNLOAD 620 MB part III
DOWNLOAD 278 MB part IV
DOWNLOAD 784 KB part V