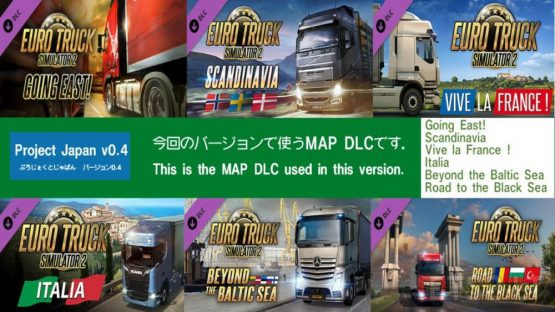 Work was started on the north-central coast of Japan. The first city was Toyama, located in the Chūbu region. I have planned to start with the 3 central regions Chubu, Kansai and Kanto. This is a long-time and large scale project. We are looking for people to join me on this project. If you are interested and you know how to map, contact us!
Our garages are located in Amagasaki, Akashi, Awaji, Tokushima, Shikokuchuo, Kanazawa, and Toyama.
Dealers are located in DAF: Tokushima, VOLVO: Matsuyama, SCANIA: Kanazawa, and MAN: Toyama.
Our repair shops are located in Kobe, Tokushima, Saijo and Kanazawa.
The employment store is located in Tokushima, Kobe, Kanazawa.
Supported version is 1.37 only.
You will need the following 6 MAP DLCs to use them.
– Euro Truck Simulator 2 – Going East!
– Euro Truck Simulator 2 – Scandinavia.
– Euro Truck Simulator 2 – Vive la France !
– Euro Truck Simulator 2 – Scandinavia.
– Euro Truck Simulator 2 – Beyond the Baltic Sea
– Euro Truck Simulator 2 – Road to the Black Sea.
The following MAP DLC is not currently required, but may be required in the next version.
– Euro Truck Simulator 2 – Iberia
The trailer in the DLC below is not recommended for use in Project Japan.
Some buildings, such as toll booths, have been changed to a Japanese height, which may cause problems when towing the following items
– Euro Truck Simulator 2 – High Power Cargo Pack.
– Euro Truck Simulator 2 – High Power Cargo Pack.
– Euro Truck Simulator 2 – Heavy Cargo Pack.
The setting of random events and random detour events should be disabled by moving the gauge to the leftmost position.
Twitter for updates: https://twitter.com/ProjectJapanETS
Image Album (outdated, Most images are on the Twitter) :
http://imgur.com/a/Nft9P[/size]
Road progress:
https://www.google.com/maps/d/u/1/edit?mid=1EwRxbQAW5YG0SJf5ZhtTiE3He3A&ll=36.39570131036274%2C137.20276931313992&z=10
Mappers needed!
Do you know how to map and want to build for this map? – Contact in PMs.
ALL CONTENT IS OWNED AND IN POSSESSION OF THE PROJECT JAPAN TEAM.
THE MOD IS NOT TO BE RE-DISTRIBUTED ON DIFFERENT THIRD PARTY WEBSITE WITHOUT FULL AUTHORIZATION AND
PERMISSION FROM STOKED_DUDE.
MOD PAGE BOTS ARE EXCUSED AS LONG AS CONTENT WITHIN THE MOD IS NOT ALTERED. ( C ) 2020
—————————
Updated content:
✓ Compatible with game version 1.38.
✓ New AI traffic added.
✓ Other minor improvements.
LOAD ORDER:
1. (optional)
A1.PJ_addon_hotdog_acc
A1.PJ_addon_pj_acc
A2.PJ_addon_jp_company
2. 1.projectjapan-138-def
3. 2.projectjapan-138-model1
4. 3.projectjapan-138-model2
5. 4.projectjapan-138-model3
6. 5.projectjapan-138-map
HOW TO INSTALL:
1 – Unzip the all .7z file.
2 – Put all the files from the .scs into the MOD folder of ETS2. ( Documents )
3 – Create a new profile, this is a stand-alone map.
4 – Activate all mods.
5 – Make sure you select japan.mbd in the selection of region.
Please check Popentas's blog for details.
https://ameblo.jp/popentasu01/entry-12508458419.html
https://ameblo.jp/popentasu01/entry-12577805957.html
Click here for the explanation video of mod introduction created by Wombat.
www.youtube.com/watch?v=aEB3s0xppS4
For those wondering, I got permission from stoked_dude to release and as the others were on vacation who would have released it, it was decided as the standalone version was ready and to not keep everyone waiting I should upload it.
For the addon version, the team still have a bit of work to do so keep an eye out for it but it may still take a little while.
Please tell me if there are any problems with the download link or any other problems here.
[Official links]
Project Japan Official Discord –
https://discord.me/projectjapan
Project Japan – Japan re-created in 1:19. –
https://forum.scssoft.com/viewtopic.php?f=32&t=244283
Project Japan JP - Twitter
twitter.com/ProjectJapan_JP
Project Japan official – Youtube
https://www.youtube.com/channel/UCYPvwjfGbw3m_VMxtJLc28w/videos?view_as=subscriber
Credits:
FLD for road prefabs and road assets.
Koutsuu for several japanese objects.
Todor Alin for maps walkers crossing streets
Tall crane from ATS (version 1.0).
plykkegaard for road prefabs and road assets.
Dan89 for Environment props for modders.
Penguin for JNR DE10 type diesel locomotive.
PumpCurry for GD-Highway Gothic.
jaijai for Japanese Buses LV290 KV290.
Shigeru Ogawa Containas texture.
Sheibishi for march and spacia model.
TATA TV for AI skins.
DOWNLOAD 1 GB