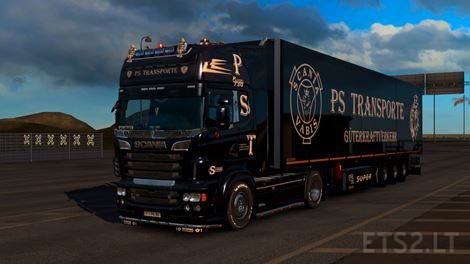 PS Transporte Skin for Scania RJL | Tested on version 1.28 without any bugs. Works on Topline cabin.
PS Transporte is a phantasie company based in Frankfurt (Germany) which I use at playing ets2.
Short explanation:
Over the last years I used a lot of mods for more fun at playing ets2. Now I learned something about create skins for the trucks, trailers and make changes on the cargo settings.
And now I want to give something back to the community.
I will upload some truck skins, some trailer and remodded trailers out of the community.
Hope you will like it and looking forward for your feedback. If there are some questions, don´t hesitate to use the comment function 🙂
Credits:
firstbase80
DOWNLOAD 303 KB
https://youtu.be/jGcKMCnlCdQ