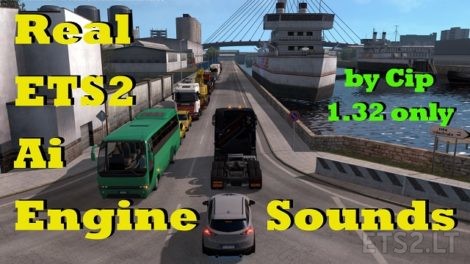 Annoyed by the Ai traffic default sounds? Congratulations, you discovered a unique mod that is bringing to life every single Ai car, truck and bus in ETS2.
Composition and how to use:
– this mod includes personalized sounds for all cars, SUVs, trucks and buses of the ETS2 default vehicles.
– some vehicles received a more realistic speed limit
– this mod is the result of many months of work and few more of improving the sounds
– for best experience use my mod in combination with Sound fixes pack by Drive Safely with my mod having higher priority in the load order.
– if you don't use Sound fixes pack, for better experience be sure you increase the following 2 parameters in def / game_data.sii as following:
interior_sound_volume: 0.35
interior_sound_pitch: 0.99
– suggestions received as constructive feedback it's a step forward for improving this mod even more
Credits and Author rights:
-The main source of sounds is YouTube. sound engines are identified, processed, converted which is entirely my work.
-few sounds are from Drive Safely's Sound fixes pack from which some sounds have been reworked and included in my pack under his permission so credits goes to Drive Safely also.
Credits:
Cipinho, Drive Safely
DOWNLOAD 54 MB