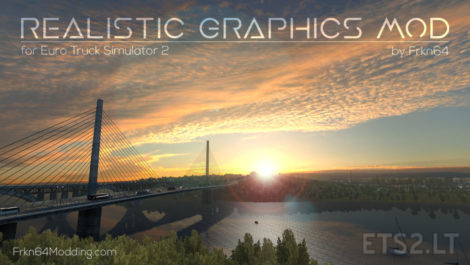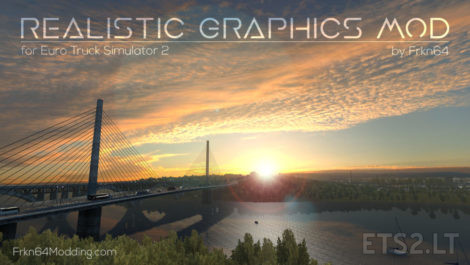 _________________________________________________________
Visit our website to see more images of the mod: https://en.frkn64modding.com/ets-2-realistic-graphics-mod-v2-1-4/
========================================
FEATURES
– 72 Realistic skybox textures in 4K quality
– Realistic shadows of the clouds
– Realistic in-game coloring
– Realistic light flares & reflection effects
– Realistic road textures in 2K quality
– Realistic terrain textures
– Realistic rain & thunder sounds
– Realistic raindrop effects
– Realistic water textures
– Improved climates
*This mod increases frame rate.(Confirmed by many users.)
*Some skybox textures was made by SGate.
Tips for users
Tip 1: For more vibrant in-game colours, turn on the "Color Correction" option in the graphic settings.
Tip 2: To disable in-game bloom effect, turn off the "High Dynamic Range" option in the graphic settings.
Tip 3: For high quality skybox and road textures, set "Texture quality: High" in the graphic settings.
———————————-
UPDATE NOTES
v2.1.4 released. Changes;
– Now compatible with ETS 2's 1.32 update!
———————————-
REQUIRED GAME VERSION
v1.32.X
————————————————————————–
Please respect to labor by following these rules;
– Don't edit the mod files without permission.
– Don't change the download link while sharing the mod on another sites or YouTube etc.
– Don't upload the mod to your Sharemods/Modsfile etc. account for earn money.
Thanks in advance.
Credits:
Frkn64 Modding, SGate
DOWNLOAD 542 MB
DOWNLOAD 542 MB [mirror]