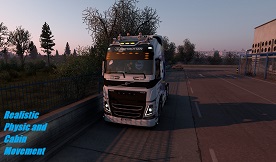 "Realistic Physic and Cabin Movement" Mod for ETS2 Ver. 1.5
Compatible with 1.4x.x and higher of ETS2. Please keep original download link!
Changelog: 1.5
– Fixed centering shaking by steering wheel, it feels more like little bit indirectly steering
Added Trucks
– Mercedes 1632 NG [Edit by Ekualizer]
– DAF F241 series [by XBS]
– VOLVO F88 [by XBS]
– Scania T Mod [by RJL]
– DAF 95 ATi [by XBS]
– Big Stars [by WTD]
– Kamaz 5490 Neo [by Max_Dmitriev & others]
– MAZ 5440 [Bruieser & others]
– FORD F MAX [by SimülasyonTÜRK]
Changelog: 1.4
– Fixed excessive shaking of the cabin
Donate
My mod is free for all to download. However, If you like, what i`m doing and want to support my work, you can transfer any amount of money, on my Stream-Donation site on this link: https://www.tipeeestream.com/kaallii/donation
All donations are very welcome! Thank you very much!
Please do not reupload this mod to other filehostings and keep original link! Thank you!
Created by Kaali, February 2022.
Credits:
Kaali
DOWNLOAD 8 MB