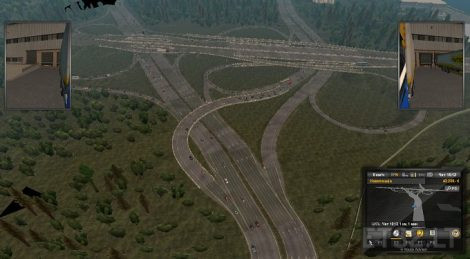 I am rebuilding all standard SCS' interchanges on Rusmap and modifying highways to real number of lanes. Then I will rebuild all wrong custom interchanges, then good custom interchanges with wrong number of lanes.
There are 2 version: Non-Promods, but compatible with Promods, and Better traffic flow for Rusmap.
Only Rusmap is required and, Rusmap and Promods for Better traffic flow for Rusmap.
Temporary, Better traffic flow Rusmap contains non-Promods version because Promods version is under bug-fixing.
Changelog:
– M3 from Moscow to Kaluga and rest of M1 and M9 are rebuilt: new interchanges and correct road profiles.
– Fixed bugs, especially low bridges.
– I rebult total 25 interchanges and built 22 new, including replaced crossroads. About 21 ohter interchanes are sheduled for rebuilding.
Credits:
Brainiac, FLD
DOWNLOAD 197 MB