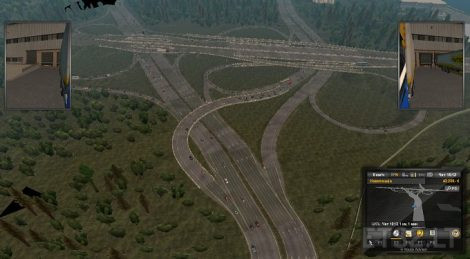 I am rebuilding all standard SCS' interchanges on Rusmap and modifying highways to real number of lanes. Then I will rebuild all wrong custom interchanges, then good custom interchanges with wrong number of lanes.
There are 2 version: Non-Promods, but compatible with Promods, and Promods version with Better traffic flow for Rusmap.
Only Rusmap is required and, logically, Rusmap and Promods for Promods version.
Promods version has a bit more realistic interchanges and roads than non-Promods version, including road lines and more semaphores where are in real life. From next version, it will contain very realistic navigation signs.
Better traffic flow Rusmap contains Promods version because it is more realistic than original Rusmap, so you don't have to use both mods.
I didn't made Better traffic flow for non-Promods version because you must use Promods assets for full benefit.
Changelog:
V.1:
St. Peterburg ring road (officialy KAD) is rebuilt.
V.2:
– Whole M10/E105 between St. Peterburg and Moscow is rebuilt: new interchanges and road profiles.
– Both part of new highway M11 are built (from 2 to 5 lanes). I can't be proud with quality, but, sections aren't long, so you won't feel it.
– Moscow Ring Road (officialy MKAD) is rebuilt, extended to full circle and widen to at least 5+5 lanes.
– M9, M1/E30, M3/E101, M2/E105 and M4/E115 from Moscow to A108 are rebuilt and widen to 3+3 and 4+4 lanes. I couldn't wide M3 because of crossroads, so I had to built new road and interchange with ring road on bridges and keep old road on ground, under them.
– According to Russian government decision, I increased speed limit on M2, M4 and M9 to 130 km/h.
– All those roads except M4 and M5/E30 don't lead directly to Moscow. You must exit from them. That it because they have 5 lanes and crossroads only 2, so it is only way to avoid big traffic jams.
– I rebult total 18 interchanges and built 16 new, including replaced crossroads. About 30 ohter interchanes are sheduled for rebuilding, which is about half of work.
Promods version:
http://sharemods.com/159jrv3wsu2p/Realistic_Russian_highways_Promods_version.zip.html
Non-Promods version:
http://sharemods.com/ya1hgr9itxm5/Realistic_Russian_highways.zip.html
Main link will lead you to page where you can choose files which you want to download, ask any question, report bug/crash and follow my work. There are all my mods.
Credits:
Brainiac, FLD