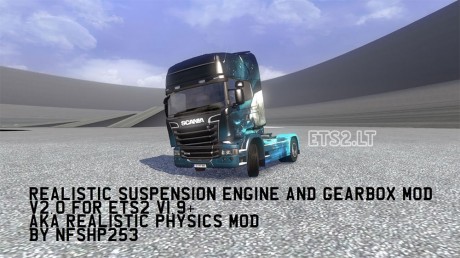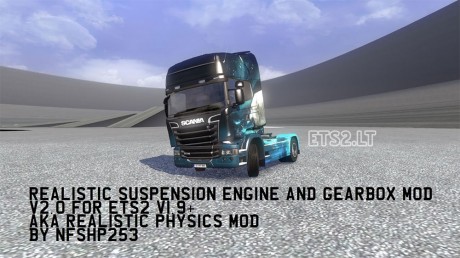 The Realistic Suspension, Engine & Gearbox Mod v2.0, previously known
as the Realistic Physics Mod has been renamed to more accurately
reflect the contents of the mod. It was pointed out that Realistic
Physics could bring across the misconception that any physics coding
was changed; what was changed is only the values in physics.sii that
are made accessible and modifiable to the end-users. The inclusion of
the words Engine & Gearbox also more accurately represents the fact
that an extensive amount of additional engine and gearbox data have
been included in the mod to enhance the accuracy of the simulator in
terms of real life mechanical data.
This mod brings to you improvements in suspension settings and a wider
and more accurate selection of gearboxes and engine choices to better
suit different applications and preferences. The latest v1.9 patch for
ETS2 has revised the entire physics code and as such the values that
can be adjusted in the mod can be seen as being more limited than in
previous iterations. This mod also brings to you a plethora of new
gearbox choices for trucks in both non-retarder and retarder guises.
These 54 new gearboxes vary from 12, 12+2 and 16 speeds dependent on
truck make and model. All gearboxes are based on real life data with
accurate gear and final drive ratios that have been compiled through
many hours of research. These gearboxes also include multiple reverse
gear ratios (if applicable).
This mod through the numerous release versions have garnered more than
192,000 individual downloads so join in the fun!
*Please note that this mod is a continuous WIP and frequent updates
will be made available in conjunction with any significant code
changes in new patch releases for ETS2.
Changelog (v2.0)
+ Adapted mod to suit and use values from the new physics engine update
+ Introduced more accurate front chassis damping
+ Introduced more accurate rear chassis damping
+ Introduced more accurate trailer chassis damping
+ Adapted cabin spring and damping rates to better suit new LUT force
spring index
+ Included the new Mercedes-Benz Actros MP4 4163 SLT OM 407 625HP/3000Nm
engine option
Credits:
nfshp253
DOWNLOAD 10 KB