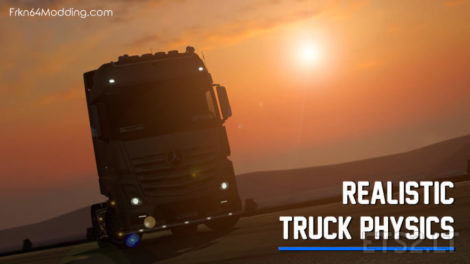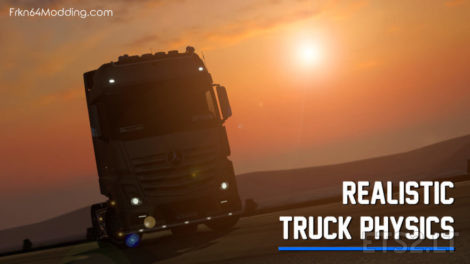 Visit our website to download our other mods: https://frkn64modding.com
========================================
FEATURES
– Realistic suspension springing
– Realistic cabin shake
– Realistic braking simulation
– More difficult overturning on curvy roads
– Compatible with current ETS 2 trucks.
– Also, will work with all truck mods that compatible with 1.33 update.
Warning: SCS broke truck physics with the 1.33 update. Therefore, I can't adjust trailer stability. So, you should be careful on bends. Because trailers can easily overturn.
———————————-
UPDATE NOTES
v5.8 released. Changelog:
– Now compatible with 1.33 update.
– All truck physics re-optimised.
———————————-
REQUIRED GAME VERSION
v1.33.X
————————————————————————–
Please respect to labor by following these rules;
– Don't edit the mod files without permission.
– Don't change the download link while sharing the mod on another sites or YouTube etc.
– Don't upload the mod to your Sharemods/Modsfile etc. account for earn money.
Thanks in advance.
Credits:
Frkn64 Modding
DOWNLOAD 73 MB [Sharemods]
DOWNLOAD 73 MB [modsbase]