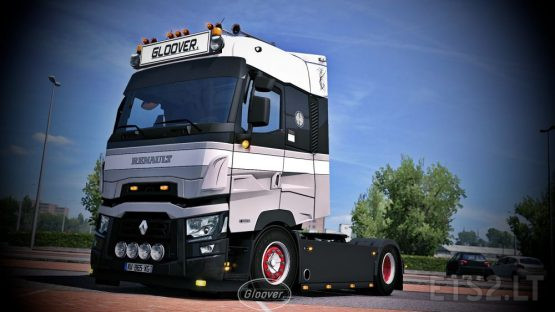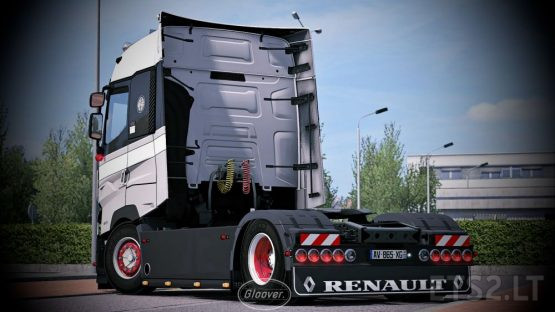 Welcome to my Renault Range T Light Improvements v.1.4
What is Light Improvement? It adds different parts from simpel slots to lightboxes, sunvisors, custom skirts, roof, bottom, side bars, custom bumpers, and aero parts from renault,
all you need is your lights accessory mods to individually design your Range T.

Changelog v.1.4
Fixes:
Advanced coupling got fixed
Rearfenders got fixed
Sepperated Chassis
Remade materials of all painted parts from my mod.
New in v1.4:
Renault Aero Parts (Front/Sideskirts 4×2 only)
Dirt deflectors (Side Deflector slot)
Window deflectors (Sidemirror slot)
Sunshields standard extended black
White Roofmarkers
Custom Sideskirts 4×2 6×2/4 6×24 (Sidepipe or non pipe)
4×2 Square sidebar whit orange lights
New custom sunshield
2 Lightboxes as accessory
French & German plate
Removeable sidereflector
Painted lights xenon/halogen (Thanks to umri20)
Painted Rearfenders/Covers all varaints added (Thanks to Sogard3)
Staircase slot for front fenders also in paint (Thanks again to Sogard3)
Added curtain in exterior view
Templates added for custom parts/String lines for paintjob system included.
Notice: Templates arent perfect, i made this the first time, there can be problems
cause i edited them after again, and didnt remade the templates.
You wont gain any attention from me if something is wrong whit them.
It can be also that there are 2 sides, inside and outside.
Just be creativ if you have struggle.
Templates are only for the new skinsystem, the accessory strings you can
find in the Template folder. Dont ask me how to do this. This isnt my task
to teach you this.
Unrar/Unzip the file after download.
Have fun whit v.1.4!
Tested under latest patch, error free logfile.
-Gloover
You can share this on other sites but KEEP ORIGINAL DOWNLOAD LINK AND CREDITS! NO REUPLOAD TO OTHER FILE SHARING SITES!
Publishing edited mod without my permission is FORBIDDEN!
Credits:
Gloover, SCS, Sogard3, umri20
DOWNLOAD 49.5 MB