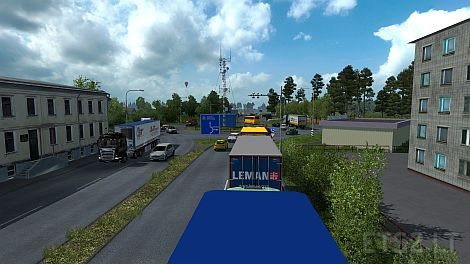 In this version, there is plenty of traffic all day long.
Of course also Rush Hours in the morning and in the afternoon.
The AI's are actually also friendly, but nevertheless it comes from time to time to accidents.
Normally it will be quickly resolved, but it can be also happens that you stuck. Therefore I recommend to quick save the game from time to time.
Features:
– No slow cars if it rains and in the night. (thx piva)
– No stupid overtaking AI´s at national roads. (thx Todor Alin)
– More traffic in the citys, (thx piva) but not to much, i don´t like it.
Should be there any problems or bugs, then please contact me. Otherwise I can not look whether I can fix.
You can find me in the SCS Forum:
https://forum.scssoft.com/viewtopic.php?f=177&t=226730
My thread in german language in the ProMods forum: https://promods.net/viewtopic.php?f=18&t=16355&sid=896c745cd060f88ec5e2df56e6395e7b
This mod should work with any maps, and Skin/Trailer packs.
Loading order: Place it in the Modmanager higher then any other traffic/skin/trailer and map mods.
Have fun. 🙂
Credits:
Rudi, piva, Todor Alin and many Beta Tester from the ProMods forum
DOWNLOAD 42 KB