Savegame for ETS2 MP (Lvl36 20Mil AllDealers)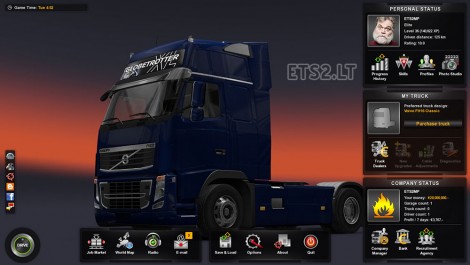 This is a savegame for ETS2 beginners. Perfect if you want to play ETS2MP (Multiplayer Mod), but it works for singleplayer too.
* Level 36 (all skill points are maxed out so you can have the widest selection of jobs)
* 20.000.000€ Cash (so you can buy any trucks you want and dont have to worry about crashing and repair costs)
* All truck dealers are unlocked (Volvo in London, Scania in Hannover, Mercedes-Benz in Stuttgart, MAN in Munich, Renault in Paris, DAF in Amsterdam and Iveco in Frankfurt/Main)
* Starting city is Stuttgart, Germany
* This savegame DOES NOT require any DLC, you can use it with the basic game (or with any DLC you might have)
* Tested with ETS2 version 1.22.2.6s (should work for all versions)
How to use:
Just extract the ZIP-file and copy the folder inside to "My Documents/Euro Truck Simulator 2/profiles".
Author: krautboy
Popular mods