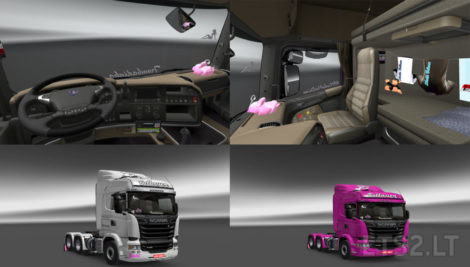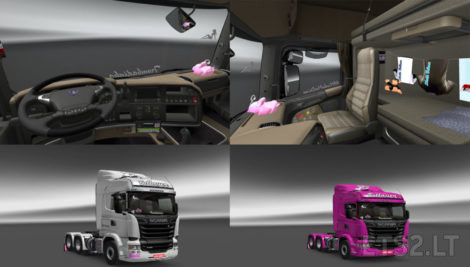 English:
The mod adds the Scania Streamline Style Sheila Bellaver in the "Euro Truck Simulator 2" (google it if you don't know about her before complain about the mod.)
Clean log
There is no bug at all.
Standalone truck (does not replace any truck)
Found on Scania Dealer
Many accessories outside and inside the truck.
Truck already comes with a cool sound.
if you want to have the bellaver scania you need to choose only the items with the icon of Sheila Bellaver.
Portugues:
O mod adiciona a Scania Streamline Estilo Sheila Bellaver no "Euro Truck Simulator 2"
Nao tem erros no log
Nao tem bug nehum
Standalone truck (não substitui nehum caminhao)
Encontra-Se na Dealer Scania
Monte de acessorios fora e dentro do truck.
Ele ja vem com um Ronco Top.
se você quiser deixar a Scania igual a da sheila escolha so os items com a icone Sheila Bellaver.
————————————————————————————————-
se curtir o mod e gostaria de me ajudar ! paypal: [email protected]
————————————————————————————————-
Obg por usar o mod abrazo manin, se o link original do mod bate 4k download vo fazer uma vers 2 com mais acessorios blz.
————————————————————————————————-
Credits:
Model Base: SCS Software
Upgrades, Update and Edit: ValheinXL
Accessories and interior: Werdeson Borges
Sound: Werdeson Borges, Rafael Rodrigues, Kriechbaum.
Swheel anim: Afros Anim.
OBS:
Pode compartilhar o mod a vontade mais por favor respeita o link original de download pessoal, obg tmj.
Important: You can share the mod anywhere but please let the original link for download. thanks.
Credits:
Werdeson Borges , ValheinXL
DOWNLOAD 72 MB